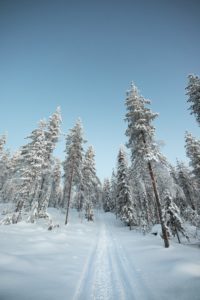 With the gloominess of winter, sometimes our mental health can take a plunge for the worst! Perhaps you find this tends to happen to you every winter, but it's a bit worse than it usually is. It can be so difficult to find happiness and meaning when it is cold and dreary outside. But perhaps you're really feeling the effects of winter after you've experienced an abortion. Maybe before you could handle the change of seasons and emotions, but now you find yourself struggling to stay afloat.
Dealing with seasonal depression is difficult enough as it is, but struggling with difficult emotions after an abortion can make it so much harder. Especially in winter, it can be so easy to feel isolated and alone as you wade through these difficulties. You might feel like all is bleak and you hang on, getting through each day. But you don't have to suffer with your pain or through this cold winter alone anymore. There is hope and help available. Take that next step to move forward in healing and get back to wholeness.
Restore After Abortion is a program designed to meet your needs to restore from a past abortion, no matter how long ago or how recent. You don't have to live in the chill of your feelings alone, we will walk with you on your road to restoration! There are brighter, better days ahead for you. Call or text 630.599.0043 to get started with healing.