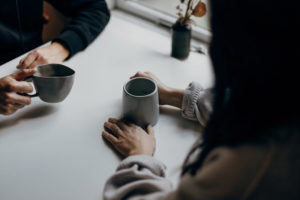 Are you wrestling with symptoms of post-abortion stress?  For some individuals, feelings of shame and other difficult emotions follow the decision to end a pregnancy, sometimes even years later.  Maybe you can relate.  Maybe you feel burdened by an abortion experience in your past, and you're struggling to cope, but you don't know where to turn.  And you're not sure how much longer you can bear this weight on your own.  If you find yourself facing circumstances like these today, sharing your story may be the very last idea you're ready and willing to try.  It's natural to hide feelings of shame and suffering from others.  And yet, for many of us, opening up to someone trustworthy is key to healing from an emotionally haunting experience.
At Restore After Abortion, we believe in the power of healing through relationships.  Restore is a post-abortion recovery program designed to help people find hope after a difficult decision to end a pregnancy.  We offer opportunities to process your experiences and discover support in a group or one-on-one setting.
Check us out! We've been serving women and men for over twenty years, and we're as passionate as ever about helping people find their path to healing.
Confiding in Someone Will Reveal That You're Not Alone
You don't have to face the pain of your past abortion alone and unsupported.  Talking with a support group or Restore leader about your abortion experience and your feelings surrounding it will uncover that many others have made similar choices with similar impacts.  It's true that every situation is unique.  However, many of the same patterns emerge under the stressful circumstances of an unexpected pregnancy.  Perhaps you didn't have the resources, information, or support you needed to make an alternative pregnancy decision.  Or, you didn't expect to feel so troubled after choosing this path.  It may be comforting to learn firsthand that you're not the only one.
Confiding in Someone Will Allow You to Receive Support and Perspective
It's hard to be vulnerable with someone about a deeply personal experience like an abortion, especially when there's lingering guilt or shame.  But opening up to someone warm and kind will create an opportunity to receive some much-needed support and the benefit of another perspective.  The right person will encourage you while holding you accountable for any steps needed to heal and grow.
Confiding in Someone May Uncover Fresh Insight
Have you ever found that talking about something you've been through helps you process the experience more fully?  Putting feelings into words has power to reveal fresh insight from within.  Maybe that's because talking about an experience involves filtering through your thoughts and emotions.  If you haven't opened up to someone about your abortion, you may be avoiding this part of your past, which won't help you heal.  Or, you may be stuck in a pattern of negative self-talk, an internal dialogue that's only weighing you down.  Generally speaking, human beings need a sounding board to understand themselves and their experiences well.  We're seemingly hard-wired to connect with others and heal within a community.
Without a doubt, being vulnerable with someone about a past abortion takes courage.  It involves a significant leap of faith.  And yet, sharing this journey with someone trustworthy may be the most effective way to truly heal.  Many of the individuals who reach out to Restore tell us they're scared to ask for help at first, but later on feel so thankful they did.
Contact us today to speak with a caring team member!  We offer a safe, confidential, judgement-free space.