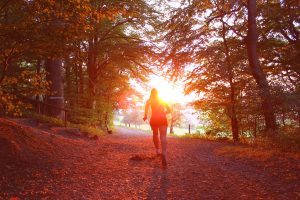 Running a long distance can cause pain. Labored breathing, muscle aches, and fatigue often try to discourage you from traversing another mile. The present discomfort can make it difficult to see beyond the hills and remember you're nearly at the finish line. It's the same when it comes to seeking post-abortion healing.
Just like when you're running a race, abortion recovery may require a slow and steady pace. The journey may be challenging. At times, the uncomfortable parts might make it hard to keep going. But you are not the sole runner in this race. There are people right at your heels who will not rush you to the finish line, but encourage you as you go.
You may be afraid to start, as perhaps you're unsure about how long you'll be running. Opening up about an abortion can seem scary at first, similar to contemplating a run as you stare down the track at the starting line. Know that it's okay to start slow. When it comes to restoring yourself after an abortion, this is not a race where anyone is trying to charge ahead of you. You're free to set your own speed and complete the run at your leisure.
And when you finally emerge through the last stretch and finish, there is often a sense of accomplishment. It can be hard, and there may be times where you're tempted to quit or diverge from the set path. But following the markers so you can stay the course can lead you on a worthwhile journey that brings peace from an abortion.
Get Help Today
The Restore After Abortion program offers free, nonjudgmental post-abortion care for teens and adults. Please call/text us at 630-599-0043 or email care@restoreafterabortion.com.