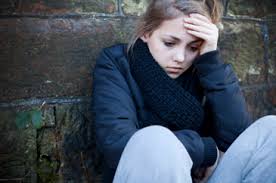 When we feel bad about something we've done or experienced, we sometimes respond in ways that not only are not helpful, but may actually be harmful to ourselves. And sometimes this happens without our even being aware of it.
If there is abortion in your past, pain, regret, and self-incrimination can stay with you. Is this causing you to act in a way that's harmful to yourself? Many women report feeling like they don't deserve to be happy because of their choice to abort. Are you denying yourself anything as a way to punish yourself?
–Maria says she makes herself go to parties, but feels like she must not enjoy herself.
–Katie feels compelled to become as thin as possible, eating little and exercising for hours each day.
–Alyssia started cutting herself.
–Kristen is throwing herself into her career even though she knows she is losing important relationships.
Women who are doing self-punishing behaviors may feel like they need to "pay" for their abortion by suffering themselves. In some cases, people feel that emotional pain can be transferred or relieved by physical pain.
Becoming aware that self-punishing behaviors may be related to your abortion experience is a first step toward healing. Please contact Restore to speak with a caring expert about how we can help.
Restore helps those for whom the lingering effects of abortion continue to cause pain. Restore provides free confidential post-abortion care and post abortion support services to all individuals after abortion experiences. Restore After Abortion serves DuPage County, Illinois and surrounding communities. Please call today for a free, confidential consultation.