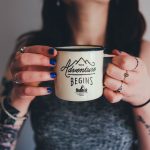 Every day at Restore, we see women seeking healing from their abortion experiences. They come to us feeling emotionally wounded and broken. Oftentimes, they are stuck in feelings of anger, sadness, grief, depression, and regret. Usually, they do not see much hope in their situations.  That is, until they begin to process through all of the grief surrounding their abortion experiences in a compassionate, non-judgmental environment like what Restore offers.
Here are just some of the life-changing stories coming out of these Restore groups over the past year that I wanted to share with you:
"Before Restore, I was in a very dark place emotionally and spiritually. I knew I could not continue my life in this much pain. Meeting other women who went through a similar experience was very helpful for me to feel as though I am not alone and it was helpful to hear how others have healed from a painful abortion. Restore pushed me emotionally and spiritually. Although at times I felt worse, there is a light at the end of the tunnel and now I feel much better about myself and healing has occurred."

"I feel it is a great program. It goes into depth about all the issues that I have gone through and needed to go through. Everything was amazing."

"Overall, I have a positive feeling about this program. It has not only helped me heal but grow as a person. I have learned how to evaluate where my emotions are coming from and got a chance to connect with other ladies and not feel so alone about it."

"Before the group, I was angry all the time and I never knew why. During (the group) I faced a lot of hard stuff, not going to lie. There were times I wasn't sure if it was really helping. But, it has helped me more than I thought and I have grown as a person from it."

"I think it was helpful to have other women share their stories to help me realize other people have gone through what I have and feel the same way as I do."

"Restore has brought me out of the darkness I was feeling I thought would never end. Although, at times, it made me feel more sad, I am so grateful for the healing it has brought to my life."
What a difference the Restore Program has made in so many lives. Hope and healing is possible. Don't let grief triumph in your life. Call us today. We want to help.
Restore After Abortion serves DuPage County, Illinois and surrounding communities. Whatever your need may be for post abortion healing, Restore can help provide free and confidential post abortion care and support services. Please contact us. We are waiting to hear from you.