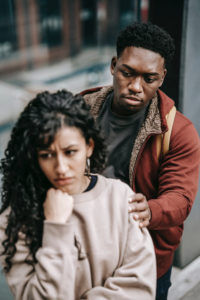 Maybe your past pregnancy experience began when you had a sexual encounter with someone other than your partner.  Chances are, your circumstances started to feel especially complex the moment you received a positive pregnancy test result.  Abortion may have seemed like your best and most logical option at the time.  But what if you now find yourself second-guessing your pregnancy choice days, months, or years later?  It can be difficult to find peace of mind about an unchangeable decision that's producing ongoing anxiety and uncertainty.  But there is a way forward!
Does your abortion decision still feel unresolved in your own heart and mind?  If so, you may be asking yourself, "What am I supposed to do with these unnerving emotions?  Am I fated to wrestle with my doubts forever?"  Know that it is possible to discover hope and healing.  That's where Restore After Abortion comes in!  We're a free post-abortion recovery program that's been partnering with women facing tough situations like yours for over 20 years.
Reach out to ask us your questions and learn more!
Meeting Your Doubts Face-to-Face
If you're second-guessing your abortion decision, know that you're not the only one grappling with this.  Your story definitely isn't over!  Hope and clarity are within reach, but your healing journey begins with you recognizing where you stand emotionally.  Lots of people who experience doubts try to distract themselves or push away these unpleasant thoughts, hoping the uneasiness will fade away with time.  But that doesn't always happen.  Uncertainties about the past can sometimes linger.  If your post-pregnancy journey has been difficult, it's important to accept this reality.  Step number-one: acknowledge that you're hurting, and that it may be time to take active steps toward healing.
Talking with Someone You Trust
Finding caring support is a critical component of the healing process.  It's amazing how helpful it can be to simply process your thoughts and feelings out loud with someone you trust.  This may allow you to discover valuable self-insight, hear another perspective, and receive emotional support all at once.  If you're second guessing your decision to abort, seriously consider confiding in someone like a trusted friend or family member, mental health professional, faith leader, mentor, or Restore leader.
If your partner is still in your life, consider whether it would be appropriate to speak with him about your abortion decision and post-abortion recovery process.  This may be challenging to navigate, especially if your partner doesn't know about the abortion.  But opening up could allow both of you to understand one another and connect on a deeper level.  If you're unsure about going to your partner, consider processing this possibility with your primary support person.
Restore offers opportunities to process your experiences and receive support in a group setting or one-on-one, virtually or in-person.  Our leaders are warm, compassionate, highly trained individuals who are passionate about our mission to partner with women and men in the post-abortion healing process.  We're a safe and judgment-free space!
Schedule a confidential initial consultation today!