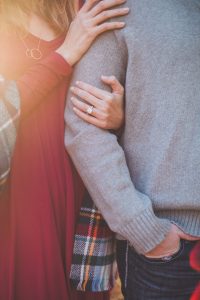 Relationships can take us on unexpected journeys. They can open us to a wide set of pathways, and each of them may lead you toward a different experience. Some routes are exciting, while others present us with easy roads to travel on with our partner. But some pathways are more challenging to venture through – they make take us down winding roads, filled with brambles and stones. It's these types of pathways that can make it hard for couples to stay the course and continue walking hand in hand with their partner.
An abortion decision can be a negative turning point in a couple's relationship. Perhaps you're finding it difficult to communicate with one another. Feelings of grief, sadness or anger might have added a heavy load to your shoulders. A part of you may have wanted to ask your partner to carry half the load for you. But a fear of rejection or a past attempt to reach out to him may have led to hesitance.
 Your partner may also be hurting from the abortion. He may be hiding his feelings to appear strong for you. Or, he's struggling with complex emotions, and he feels remaining silent about them will heal his wounds. Without talking to one another, it can be difficult to start walking again to reach the end of this journey.
Finding a way to move forward can lead you down another relationship pathway. Setting the right pace for yourselves can take time. But no matter what lies at the end for you both, support is here to guide you the whole way.
Reach Out Today
The Restore After Abortion program offers free, nonjudgmental post-abortion support for teens and adults. Please call/text us at 630-599-0043 or email care@restoreafterabortion.com.