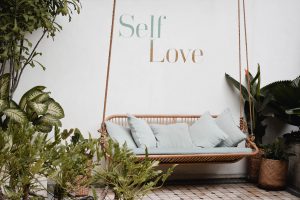 So much of our societal norms focus on self-care. Marketing campaigns are often geared towards loving yourself through new cosmetics, going to the gym, eating this meal plan, or taking a much-needed vacation. This is also sometimes known as 'treat yourself!' Lately self-love has even become reaching out for help and going to therapy. While this is such an excellent step in a healthy direction regarding what 'self-love' is, there is still a long way to go with difficult topics such as abortion.
Maybe as Valentine's Day approaches, you find your mind wandering to this concept of self-love. Perhaps you know you have something in your heart that you haven't given yourself the grace or love to deal with, but maybe now feels like the right time. If you're struggling with difficult emotions in regard to an abortion you had, no matter how long ago or how recent, you deserve to show yourself some self-love this February. Taking a courageous step toward beginning a healing journey is one of the best ways you can show love to yourself. What may seem distant or only possible in your wildest dreams can become your reality if you take this step into showing yourself gentle, compassionate love.
Restore After Abortion is a program designed to meet you where you are after an abortion. We are made up of compassionate, accepting individuals who believe working to find healing and restoration is one of the best ways you can show love to yourself. Our program can be tailored to meet your needs and your pace. You don't have to walk this path alone! We look forward to cheering you on as you love yourself this February and beyond.
Call or text Restore After Abortion at 630-599-0043 to get started on your path to healing.