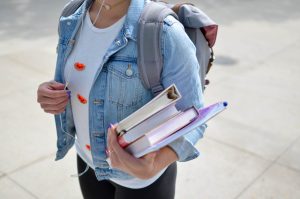 Sometimes, we make plans and everything goes exactly the way we want. At other times, though, unexpected results happen which derail our plans. When this happens, feelings of disappointment and discouragement can seep into our minds. We may fear we will never see our plans succeed. What do you do when you have to take a detour in life? Is there a way to move forward?
When I was a senior in high school, college was a place I longed for. The place where I could pursue my career interests which would set the stage for my dreams to come true. I was looking forward to a new education, new location, and, of course, lots of freedom!
When I arrived on my college campus the first day, I was thrilled to be there. The small, private college was complete with a beautiful campus by the ocean, interesting-sounding classes, and friendly professors.  There was something about being there that made me promise myself I would not leave there without finishing my degree, no matter what. I didn't want anything to get in the way of my dreams.
It wasn't long before I met a guy on campus who I thought I would have a future with someday.  I was so taken by him and thought he was as taken with me, as well.  At first, we were part of a group who liked to go out together to eat or do fun activities.  Then, it became just me and him, spending more and more time together.  I loved everything about him. He was smart, cute, and would tell me how much he liked spending time with me. I admit it was flattering to hear him say he wanted to be just with me.
It was because I liked this guy's attention, I began to compromise my standards. I thought it would be okay because we were being careful and I thought nothing would happen. But, soon it did. Naively, I thought I would not get caught and trapped within the life circumstances and mistakes others had.  I sure thought I was smarter than that. Little by little, though, the poor choices I was making would have a profound effect on my plans for the future. 
Within the first few months of college life, I found myself in a predicament, an unplanned pregnancy. I couldn't believe it. All I could think about was that all my dreams would be over if I had this baby. Additionally, when I told my boyfriend, he got upset and said we were too young to be parents and it would ruin our future plans. So, we both decided on abortion. I wish I could say things improved afterwards, but it didn't. Now, even though I was back to being "free" to do my life, I began feeling loads of guilt, regret, and shame. It affected my motivation for college and I withdrew from the people and activities I once loved. I didn't know how to get past these difficult feelings or who would be able to help me.
If you or a loved one is dealing with regret, shame, and guilt from a previous abortion, please know there is help available. Call or text Restore After Abortion at 630-599-0043 or email care@restoreafterabortion.com. Our knowledgeable and caring staff can help you process through the difficult feelings to get to a place of healing.