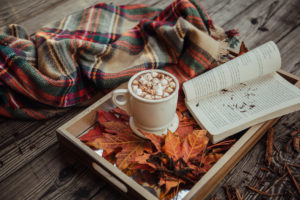 Without a doubt, fall is a much-loved season for many of us!  When you think of autumn, what comes to mind?  I associate this yearly transition with cozy blankets, the musky scent of campfire, and hot beverages.  (Is pumpkin spice taking over the shelves of your favorite grocery store yet?)  However, fall also signifies the approach of cooler weather and shorter days.  These changes can affect a person's mental health-especially when she's already coping with a difficult experience.  Maybe you're healing emotionally from an abortion as summer turns to autumn.  And, for any number of reasons, the change of seasons is triggering some complex and painful feelings related to your past.  You're not alone.  Hope and healing are available!
Processing Loss and Change
Maybe it's the lessening sunshine, or the gradual withering of plants and flowers.  Maybe it's the transformation of daily routines and activities.  Does fall sometimes remind you of what you've lost?  Perhaps, as you reflect on your past abortion experience, you can't help but wonder what life would be like now if things had turned out differently.  It's okay if grief is a part of your post-abortion recovery process.  Everyone's pregnancy story, abortion experience, and restorative journey is unique.  But no matter what circumstances you've faced or choices you've made, it is possible to heal and grow through authentic and caring connection with others.  You don't have to navigate this season (or any of the seasons ahead) on your own.
Comfort Through Connection
Just as a hot cup of coffee or cozy sweater offers warmth on a crisp fall day, so too can a supportive community provide comfort through challenging seasons of life.  At Restore After Abortion, it's our mission to help women and men heal and thrive following a difficult abortion experience.  We find that relationships are an important part of this process.  That's why we offer virtual and in-person support groups, equipping you to connect with people who've faced similar circumstances in a non-judgmental environment.  Our program can be customized to meet you needs!  So, if you're not quite ready to join a group, we'd love to offer support in a one-on-one setting.
Autumn is a season of change, but it's also a season of harvest.  Even winter refreshes and renews nature, although patience is required.  Restore After Abortion exists to help you live an abundant life no matter what you've been through.  Compassionate care is available!
Contact Restore and learn more about our completely confidential services.  We're here to listen!