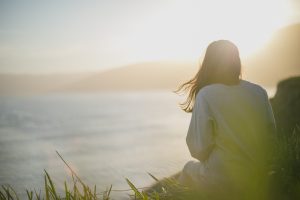 Abby's Story
It had been a difficult six months for Abby. First, the boyfriend she thought was so charming and nice became controlling and easily irritable. Then, she lost her full-time job due to cutbacks and had to get two part-time jobs which barely covered her expenses. Then, on top of everything else, she found out she was pregnant! After some thought about what to do, she decided abortion was the right choice for her circumstances. 
But, after some weeks went by, Abby began feeling she may have made a mistake. First, she thought about how quickly she made the abortion decision. It had only been a span of a few weeks. Next, she thought about how she could've made it work with the pay she was getting if she made a few changes in her spending habits. Lastly, she couldn't deny the regret and emotional pain she felt every time she saw a mother and child. She knew she couldn't go back to change the past but, maybe, she could get to a place of healing.
Abortion Recovery
If you or someone you know has gone through with one or more abortions and are now finding it difficult to move past the emotions and regret, there is help available. Please contact Restore After Abortion at 630-599-0043 to find out more about our compassionate, nonjudgmental and confidential abortion recovery program. We are here to help you get back to wholeness and a restored life.