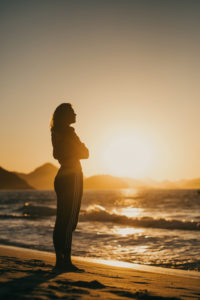 Sadly, many women aren't aware of the emotional risks of having an abortion at the time of their pregnancy choice.  The subject of post-abortion stress may or may not have been mentioned by the medical provider who completed your abortion procedure, or another professional you met with while you were contemplating your decision.  It can be challenging to broach this subject before (and after) making a choice to end a pregnancy or continue it.  But if you're reading this blog, chances are, you know from experience that post-abortion stress is very real.  Here are some possible symptoms you may be coping with:
Difficulty forgiving oneself
Guilt and shame
Sadness and depression
Grief
Anger
Regret
Relationship difficulties and withdrawing behaviors
Sexual dysfunction and difficulty with intimacy
Substance abuse
Eating disorders
Anxiety
Do any of these resonate with you?  If you're experiencing symptoms like these, you're probably wrestling with severe emotional pain.  And if you think these feelings or behaviors are related to a past abortion, reaching out to Restore After Abortion may be your next best step.  We're a free post-abortion recovery program that's been helping persons re-discover hope and healing for over twenty years.  Restore provides opportunities to meet with a support group or one-on-one with a leader in order to process your experiences, receive compassionate care, and identify how to move forward. 
Are you longing for freedom and relief from post-abortion stress?  This is something you truly can achieve.  Often, the healing process begins when a person first reaches out for support.  Contact Restore After Abortion to speak with a caring team member and assess if our program may be the right choice for you.