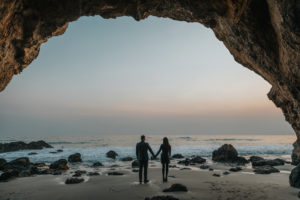 Seeing a loved one in pain may be the only thing that's harder than experiencing pain personally.  Is your partner struggling to cope after an abortion?  It's natural to feel discouraged and powerless when difficult circumstances beyond our control unfold in the lives of people we care about.  Maybe your partner is wrestling with symptoms of post-abortion stress, like sadness, anger, or guilt, and you're unsure how to best support him or her.  Know that you probably have a stronger influence than you realize.  And you're fully capable of meeting your partner is this difficult space with warmth and wisdom, while caring well for your own needs.
Every unexpected pregnancy, abortion experience, and healing process is unique.  Your partner has one-of-a-kind needs, and so do you.  Discovering how to best support your significant other in the midst of emotional pain may be a long journey involving much trial and error.  That's okay!  Navigating the mountains and valleys of life, stumbling some days and learning to be someone else's rock other times, is the only way to grow as a person and as a partner.  So, take heart.  The fact that you're asking this question, "How can I best support my partner after an abortion?" reveals something beautiful about your character.  Your partner is blessed having found this spirit of genuine care in a significant other.
Every healing process is unique- so finding what it looks like to support your significant other well will be a tailored process.  But you may find some of these general postures helpful to try:
Don't feel the need to talk. Sometimes the best way to love a person in pain is to simply be present in the silence.
Don't put inappropriate pressure on yourself. It's not your responsibility to do or say anything that will "fix" this, as much as you may want to.  If you feel compelled to serve your partner, asking your partner what she needs may be your best approach. In that moment, it may be a listening ear, a word of encouragement, or a form of practical support.
Accept and validate your partner's feelings. That doesn't mean it's okay to rationalize bad behavior or make excuses.  You partner is as accountable as ever for her words and actions.
Take care of yourself. If the abortion your partner is processing involved you, it may be especially important to seek emotional support for yourself.  Simply watching a partner deal with emotional pain is stressful, whether or not you've taken part in the circumstances triggering that hurt.  You'll be much better equipped to support your partner if you're receiving all the support and encouragement you
Discerning how to best support you partner after an abortion would involve a much longer conversation.  That dialogue would probably include your partner, and perhaps someone you both know and trust- like a mentor, mental health counselor, or faith leader.  Restore After Abortion exists to be a part of your partner's support system too.  And yours!  For over twenty years, we've been providing free post-abortion emotional support to individuals wrestling with difficult feelings triggered by an abortion.  Our program includes opportunities to meet with a Restore leader one-on-one or in a support group with others who've faced similar circumstances and decided to pursue healing.
Contact us to learn more and schedule a confidential appointment.  Hope and help are within reach!