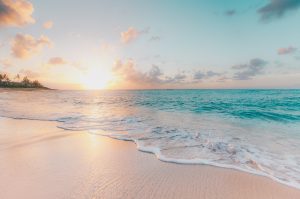 "You cannot swim for new horizons until you have courage to lose sight of the shore."  ~William Faulkner
Sometimes in life we want to stay in our comfort zone. But sometimes our comfort zone isn't good for us and can keep us from growing, healing, or even chasing our dreams. We might cling to our shore, even if it's layered with broken shells or lots of rocks. The possibility of something different or greater than what we're experiencing now might seem so scary or far away.
Maybe you find yourself on the shores of regret, grief, anxiety, or deep pain after having an abortion. Looking out on the horizon in hopes of healing or something new might feel uncertain or even a bit terrifying. Maybe you think you deserve to feel the way you do, or maybe it's comfortable staying in these emotions and thoughts. Or perhaps you don't know how new horizons could even be possible after what you've experienced. Even a new path seems far away, we know you can do it.
The horizons of healing might feel unreachable or impossible, but you don't have to get there alone. Restore After Abortion is a program for anybody going through difficult emotions or thoughts after having an abortion. Our Restore leaders specialize in helping you get the support and healing you need.
Please call or text Restore After Abortion's helpline 630-599-0043 today to start the healing process after abortion.
References:
Goodreads. William Faulkner Quotes. Retrieved from: https://www.goodreads.com/author/quotes/3535.William_Faulkner