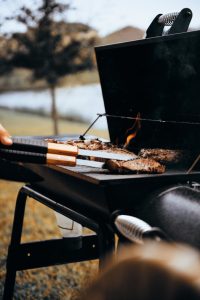 As Father's Day approaches, I can almost smell outdoor barbecues as they heat up, dads everywhere surrounded by family, manning those grills with pride. Some are watching the game between trips outside. Others are showing off their latest project in the garage or spraying the little ones with the hose as they run around the yard joyfully screaming. Regardless of the activities, families are together and men are being celebrated deservedly for all they bring to the family unit.
When I was a kid, we used to give my dad and grandpa the most ridiculous ties every year. I don't think I realized at the time how bad they were – we're talking ties with cartoon characters wearing funny hats or such obnoxious color patterns that no man could ever wear that tie to work, let alone out of the house, and be taken seriously. Yet every year, those ties were gifted and the men in my life would accept them graciously, pretending they loved them. Every once in a while, they might even wear one. I am grateful for the role these men played in my life and I am grateful for the opportunity to express my gratitude this time of year. Fortunately, I have gotten much better at the gift giving part.
There is a group of men who often don't get much consideration on this day and may be experiencing their own Father's Day in grief and isolation. These men were stripped of their chance at fatherhood due to abortion. They may have encouraged it at the time or they may have fought it with everything they had.  But ultimately, the mother of their child decided to end the pregnancy and now they are left trying to figure out how to process their feelings alone.
Are you a post abortive father? Do you struggle with grief, anger, depression and the feeling of helplessness? You are not alone. Many post abortive men, whether they encouraged the abortion or not, struggle with the aftermath. At Restore, we have a place for you to work through your grief. We know what you are going through. If you would like to talk to someone confidentially, please call/text us at 630-599-0043 or email us at care@restoreafterabortion.com today.