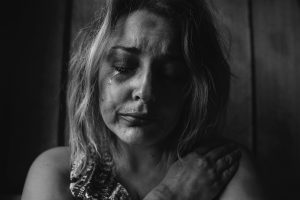 Too many times, women feel the need to go through life pretending to be fine when they are falling apart inside.  This "mask" that is put on hides the full reality of what is behind it. Brokenness. Emptiness.  Shame. Grief.
In her book, "Living in Color: The Goal of Post-Abortion Recovery" by Jenny McDermid, she talks about a condition that women can enter into when they are either  unable to or unwilling to process through the grief caused by a previous abortion. This condition, called the "Grey Zone," is the "numb, colorless, hopeless condition that is experienced by those who live with unresolved grief."
This grief may hit hard or may build up over time.  When it happens, it can be hard to cope with it and know what to do. When grief is not expressed in a healthy manner, it can be detrimental to the person who can turn to addictions to drown out the hopelessness and despair which is felt. Also, when someone is deep in grief, relationships can suffer and isolation can occur.
Grieving is important for our physical, emotional, and mental health. It can take time, but when allowed to proceed, it brings a sense of healing and proves beneficial. If you are ready to take the next step in your grieving process, please call or text Restore After Abortion at 630-599-0043. We care and want to help.
Sources:
McDermid, Jenny. (2010). Living in Color: The Goal of Post-Abortion Recovery. Tyndale House Publishers, Inc. Wheaton, Illinois.