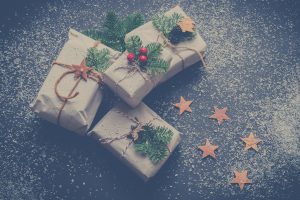 In December, it is common to see storefronts and houses decorated with Christmas lights and decorations.  In the stores, you may hear Christmas carols and songs like, "It's beginning to look a lot like Christmas." For many, Christmas activities and seeing Santa in the stores can remind people of fond memories about Christmases past or, if you are post abortive, can signal sadness and trigger an emotional response that can make you remember your abortion. In today's segment, the writer talks about how Christmas shopping was anything but happy.
Dear Diary,

Earlier today I was at the mall doing some Christmas shopping for my family and friends. I have never really liked Christmas shopping very much but I went anyways. I had to get stuff for my loved ones for the Christmas parties that I am supposed to go to. Christmas shopping is just so stressful trying to find the right gifts for everyone, dealing with the crowds of people, and waiting in the long lines at the stores. However, Christmas shopping was different. I had a difficult time when I walked past Santa Claus at the mall. I saw all of the families who were waiting to see Santa and how excited all of the kids were. As much as I wanted to be happy, I held back tears.

Ever since I had an abortion, it just seems like every little thing reminds me of that experience. There are a lot of things that an be triggering. I would have had a baby of my own in a few months and I find myself always thinking about what would have been. Next year, around this time, I would have been one of those hundreds of people that are waiting in that long line to see Santa Claus with my son or daughter. It is really hard to avoid thinking like that, and even harder to actually have those thoughts.

As I walked past Santa and all the eager children, I remembered that I also had to go into a store to look for a present for my cousin's 7 month old son. I thought about just grabbing a gift certificate so that I didn't have to look at all of the adorable baby clothing, but I decided against that. As I walked into the store, I could feel the lump in my throat. I was looking at all of the clothes inside of the store and the same thought kept popping into my head: "What would I dress my son in? Would my son look cute in this?"

I'm not sure why I do this to myself. I should not be having all these thoughts and questions all of the time. Why does everything remind me that I had an abortion? Christmas shopping is something that so many people look forward to every year and I did not think that it would have effected me the way that it did. It's really difficult. You never know what is going to trigger you after you have an abortion. At least I can call Brittany and talk to her about it. I have some peace of mind knowing that I have a good friend that knows exactly what I am feeling.
If you are having trouble with lingering thoughts about your abortion(s) around the holidays and it is affecting your life, please call or text Restore After Abortion today at 630-599-0043. We can help you process through your abortion experience and find healing in your life. We are here because we care.