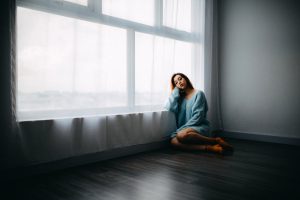 "Used to the Pain" by Keith Urban (2006):
And so I wrote this song for you
I think I know just what you're going through
Did you believe you'd never change?
Nothin' ever stays the same

I know it's hard holdin' on
Even harder trying to let it go
And so you're frozen like a stone
But you are not alone

Every step I take
I get a little less afraid
Of giving in to love, love
Let it out
Believe me when I say
It gets better every day
Once you get used to the pain

What you hide inside I see
There's a scar that's always gonna be
There's a past in everyone
You can't undo
You can't outrun
This song, by country superstar Keith Urban, can resonate with anyone struggling through a long season of pain. Phrases like frozen like a stone, a scar that's always gonna be, and a past in everyone you can't undo can become all too familiar to one who cannot move forward from the pain caused by some circumstance, health situation, or crisis. What now? What can be done to move forward when the emotional pain can feel so big and embedded in your life? If what you are trying isn't working to move you onto a path to healing, it can help to bring others into the situation who have the experience of being there and gotten healed. 
If you are struggling with the aftermath of abortion and feel "stuck" in the emotional pain, know you are not alone. You don't have to get used to the pain. Recovery is possible. Healing is available. Contact Restore After Abortion today at 630-599-0043. We can help you get plugged into a compassionate and nonjudgmental support group or individual help.