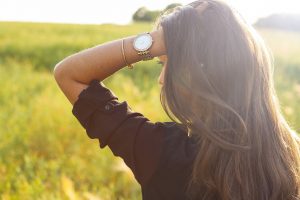 Some women may struggle with complex feelings towards friends or family members that may have encouraged their abortion decision. While these emotions are normal, sometimes, the person the post-abortive woman feels angriest with is herself.  Know that your abortion decision does not have to be what weighs heaviest upon your heart, and one of the most crucial steps towards healing is to forgive yourself.
Perhaps you feel extending forgiveness towards yourself is too hard. For some women, they may feel as if all of the blame is upon them for having had an abortion, telling themselves they're somehow deserving of guilt. Some may even find themselves pursuing self-punishing behaviors such as drinking or inflicting bodily harm. Grief can be a powerful emotion, and when it is allowed to take hold, it can knock us off our feet, leaving us breathless. But there is still hope.
It can be easier to embrace the false belief that you're worthy of condemnation than it is to accept that you deserve healing and grace. Negative feelings can fashion you into your own worst enemy, and the bitter root, once planted, may prohibit you from achieving the inner peace you deserve. But the "you" who was plagued with regret and anger is a version of yourself from the past, and direct compassion may help to ban this destructive presence. What replaces it is restoration, and one who is healed after granting yourself permission to grieve.
Reach Out Today
If you or someone you know is not coping well with feelings of grief after one or multiple abortions, please contact the Restore After Abortion program. We offer free, nonjudgmental, and compassionate post abortion care for teens and adults. Please call or text us at 630-599-0043 to begin your journey towards healing.