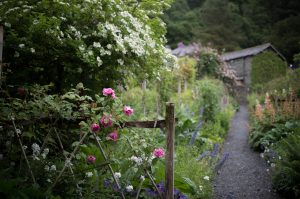 With the arrival of spring and the long days of rain that come with it, I am finding myself reminded of the old adage, "April showers bring May flowers." It is raining and wet. We can't go outside and do anything fun. Spring is here! Shouldn't we be enjoying it? But we are able to press on because we know May is coming along with all the beauty, growth and warmth the adage promises.
Have you ever felt like that about something else in your life? Have you ever experienced a dark and cloudy time but persevered and experienced the beauty of May? Or, have you willingly chosen to go through something difficult because you knew it would ultimately lead to great personal growth?
Maybe it's as simple as a New Year's resolution you made to go to the gym more often. There were days you just didn't want to go. And there were days you were not only exhausted from a long day, but sore and even in pain. But you persevered. At the end of the year you were stronger, healthier, and overflowing with a sense of accomplishment.
Growth.
May.
Or, perhaps you had to say goodbye to a difficult relationship. You may have cried and felt alone. Maybe you even questioned your decision. But when the clouds parted, you realized you were a much healthier person having said goodbye, and you were able to see the more confident, healthier person you had become.
Growth.
May.
Unfortunately, sometimes it can feel like April lasts a long time. You may even begin to give up hope that May is ever coming.
It is common for a woman who has experienced an abortion to feel this way.  Maybe you thought it was the right thing to do at the time. Your family or significant other may have agreed. Maybe they even pushed you to do it. Or, maybe you felt like you had no other option and were completely alone. But now you find yourself questioning your decision or are lost in a season of despair and regret, not sure you'll ever get over it. It's easy to get lost in the clouds. Sometimes, we decide just staying stuck is easier than continuing to hope for more. But, no matter how rainy and long April is, there is always a May. May is coming.
We experience trials in many forms every single day. Trials are, by definition, difficult. But there is purpose to the rain and when the clouds part, we see the new life it has produced. Rather than get lost in the difficulty, what if we viewed it as an opportunity for growth?  For beauty? For renewal?
Have you experienced an abortion? Are you in the midst of a rainy season afraid that your flowers will never bloom?
There is hope!
May is coming.
Give Restore a call or text us at 630-599-0043. We have gone through the rainy season and are now basking in the warmth of May. You can too. Don't wait. Contact us today. What will your April showers bring?