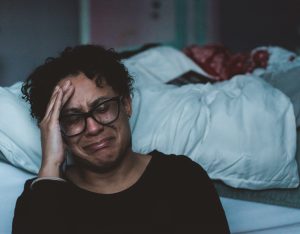 Taking the time to allow a wounded heart to mourn can help facilitate your recovery from a past abortion that may be causing you stress. Sometimes, just by allowing ourselves the chance to cry over what may be causing us pain, we can begin to release ourselves from our grief. Negative emotions stemming from a past abortion can create a stronghold of destructive thoughts, and there a resources that can defeat this stronghold through careful restoration and healing.
You may be hesitant to cry over a past abortion, as perhaps you fear crying will encourage feelings of sadness. Some post-abortive women lean on anger or denial to stave off any despondent feelings. But preventing yourself from shedding tears can be harmful, as crying can allow for an emotional release.
Biochemist and tear expert Dr. William Frey notes how tears release a stress hormone in our bodies, stimulating the production of endorphins, hormones that make us feel good. Giving yourself permission to cry may ease your sorrow more than suppressing your tears did. Know that if you do decide to release your emotions, it does not have to be done in isolation. There are supportive groups or one-on-one sessions that can comfort you in this time of grief and aid in your restorative journey.
Reach Out Today
If you or someone you know is not coping well with feelings of grief after one or multiple abortions, please contact the Restore After Abortion program. We offer free, nonjudgmental, and compassionate post abortion care for teens and adults. Please call or text us at 630-599-0043 to begin your journey towards healing.
References
Brody, Jane E. "BIOLOGICAL ROLE OF EMOTIONAL TEARS EMERGES THROUGH RECENT STUDIES." The New York Times, The New York Times, 31 Aug. 1982, www.nytimes.com/1982/08/31/science/biological-role-of-emotional-tears-emerges-through-recent-studies.html.