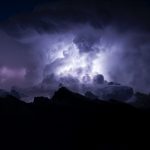 Emotional pain from an abortion can feel like a "deep and heavy darkness" for those who are struggling from it. This week, Katie shares her story of the darkness she experienced for 13 years following an abortion.
"For 13 years, I couldn't face forward. I was in a pit. A pit of shame, regret, anger, fear…darkness. Deep and heavy darkness that clouded my judgment of truth. It wasn't a pretty world on the inside. I thought I hid it well though…on the outside anyway. But looking back, who was I trying to fool?

I made the choice at 22 that would change all my nevers. You know, being a 'good Christian girl,' I'm never going to have sex outside of marriage; I'm never going to be with a married man; I'm never going to live with a man before I get married; I'll NEVER have an abortion. Yet one by one my nevers became realities. Yes, I had a choice to make.  I chose to end my daughter's life; it was on Good Friday. As a result, I made a series of other choices that led me to go places I never dreamed I would go…it was twisted.

I chose to pretend like nothing happened. I had a mask in place to make it look, to the outside world, that I had it all together. No one even knew I went into deep depression every year around Easter and then again in December, when my little girl would have been born.

Because I felt my soul was completely broken, I had nothing to give to others. I withdrew, was distant from my family and chose never to get too close to anyone, because they might find out my secret. In a bizarre attempt to punish myself, I chose to move 1800 miles away and work in Labor & Delivery. Where everyday I was reminded of just what a horrendous thing I had done.

It took me 13 years to begin the healing I so desperately needed. I found Restore and went through the 14 week study. I can't even begin to tell you the powerful work that happens here. A woman comes through the doors a broken, shamed person, and leaves knowing the power of forgiveness. With each meeting, more and more of the facade crumbled until I found relief.  It wasn't easy to bring up the pain and hurt of that fateful day or go through the anger, denial, and tremendous guilt. But, each time I did, it made a difference."  ̴ Katie, 50
If you are ready to take that next step into your journey to healing, Restore After Abortion would like to help. Whatever your need may be for post abortion healing, Restore can help provide free and confidential post abortion care and support services. Please contact us. We are waiting to hear from you.