Dreams. Everyone has them. Some dreams can be fun and full of adventures while others can be dreadful and frightening.
After experiencing an abortion, it is not uncommon that one's sleep patterns can change and/or nightmares can begin to make an entrance causing one to dread nighttime. Do you find yourself thinking so much about the abortion that, at night, these thoughts invade your dreams?
In today's journal entry, the writer talks about experiencing terrible dreams and how she wants to start feeling like herself again.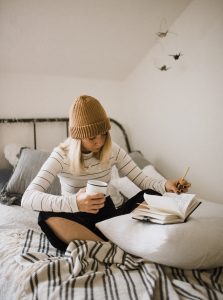 Dear Diary,

Last night I was finally able to sleep… at least for a little while for the first time in days. Ever since my abortion, I cannot seem to turn my brain off. I try so hard to think about other things or keep my mind focused on something else but I feel like everything reminds me of the abortion in some way. I am constantly thinking about that day and replaying everything in my head. I did not think that I would have such a hard time or still be questioning whether or not I made the right decision. So, last night when I was finally able to fall asleep, I was only sleeping for a few hours before I woke up from a terrible dream. I woke up sweating, breathing heavy, and very afraid. I was having a nightmare about my abortion experience.

In that nightmare, I was back at the clinic and the doctor was preparing to start the procedure. I was panicking much like I was during the time of the actual procedure. In the nightmare, the procedure was taking a very long time and instead of the doctor telling me that the procedure was over, I heard crying and the doctor handed me my baby. That is when woke up and I was heart broken and scared. After that, I was not able to go back to sleep, so I had to just lay in bed until the morning.

I'm not sure if that is common, but I am frustrated. I am physically, mentally, and emotionally exhausted and all that I want is to be able to sleep. The staff at the clinic told me that most women are a little sad for only a few days after their abortions and then everything goes back to normal. Hopefully that is true so I start to feel like myself again and I am able to go back to how my life was just a few days ago.
Restore After Abortion serves DuPage County, Illinois and surrounding communities. If you are suffering from nightmares and other abortion-related symptoms,  Restore can help. Please call or text us at 630-599-0043 for a free, confidential consultation.