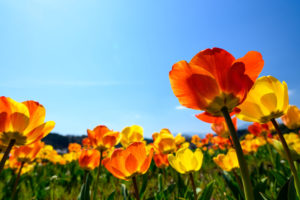 What do you love best about spring?  I enjoy watching bright green buds emerge from the soil, and soaking in the early evening sunshine.  Our weather is pretty inconsistent in Chicagoland this time of year, but the occasional warm temperatures never fail to lift my spirits a little.  Without a doubt, spring is a season of refreshment and renewal.  That's probably why it has a comforting effect on so many of us- especially those of us who live in climates like mine!
But, what if you're struggling to cope after a difficult abortion experience this spring?  Perhaps you feel like your hope is withering away even as nature blooms around you.  Know that you're not alone!  Everyone responds differently to an abortion.  However, many persons find themselves wrestling with symptoms of post-abortion stress, like anger, regret, or grief.  Restore After Abortion exists to help women and men facing circumstances like yours discover healing and take steps toward a brighter future.  We offer the following:
Free, confidential support.
Book studies to facilitate the healing process (to be completed within a support setting or one-on-one with a Restore leader… your choice).
Opportunities to connect virtually or in-person.
Maybe winter is releasing its grip on your life in a literal sense, but not an inward emotional one.  Stress related to a past abortion doesn't always go away on its own.  Sometimes, it lingers. Reaching out for help may be the key to finding hope and moving forward.
Learn more about Restore and schedule an appointment today!  We've been providing free post-abortion care for over 20 years.  We'd love to partner with you on your personal healing journey too!