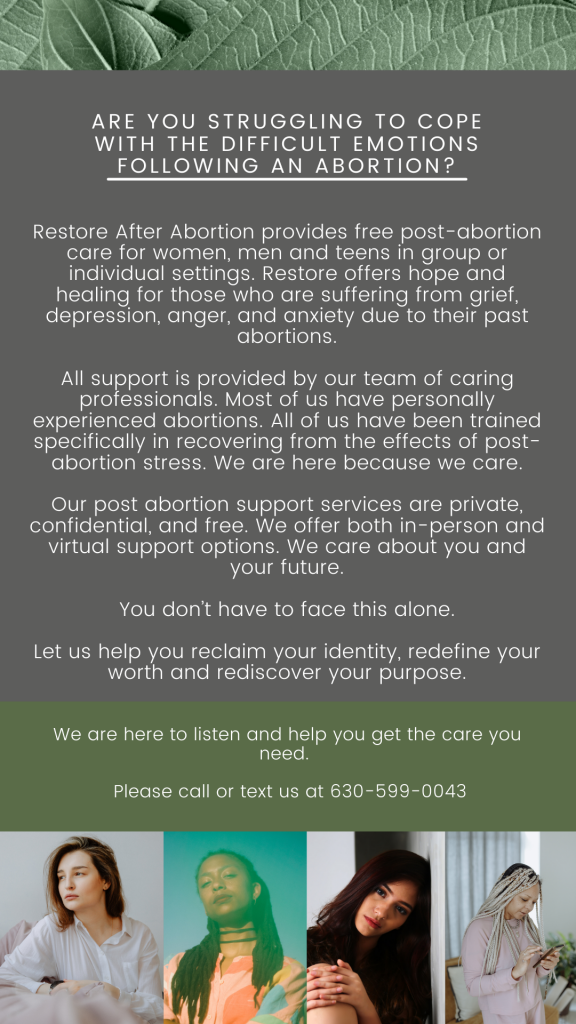 UPDATE: We are continuing to serve clients with COVID-19 safety precautions in place.  There are also options available for private consultations by phone or Zoom.  Please call or text 630.599.0043 to speak to our staff or schedule an appointment directly using our appointment form below. Thank you!
————
Please use the form below to request a Restore Introductory Appointment. This is a free and strictly confidential meeting to talk with the Restore Director, discuss questions, and find out more about the Restore support services. Appointments run 30 minutes-1 hour and can be scheduled at any of our Restore office locations (Glen Ellyn, Naperville, Wood Dale, Darien, Elmhurst, or West Chicago) or remotely by phone or Zoom. When requesting an appointment, please indicate which location you would prefer. After submitting your request, we will contact you for confirmation and the appointment will not be considered "scheduled" until after it has been confirmed by the Restore Director.  Please note that only our standard appointment times are available online.
If you require an appointment on another day or time or would rather speak to a staff member to schedule an appointment, please call or text 630.599.0043.
Thank you!